Reading Time:
7
minutes
Dropshipping is gaining popularity rapidly and many top ecommerce platforms have embraced it. There are many differences between platforms that allow dropshipping. The best dropshipping platform might be different for each person depending on what they are looking for. We hope this page will help you find the right ecommerce platform for your dropshipping needs.
According to Fortune Business Insights™, The global e-commerce packaging market is projected to grow from $48.81 billion in 2021 to $140.86 billion in 2028 at a CAGR of 16.3% in forecast period
Spocket is an ecommerce dropshipping platform that's perfect for store owners who are primarily focused on dropshipping. This is not an independent platform. It will integrate with WooCommerce or Shopify stores.
User-friendliness: Spocket's interface is extremely user-friendly, simple to use and has a variety of features.
Support. Spocket offers support 24 hours a day, so if you have a problem, they will assist you. You can also find information on other products through their forums.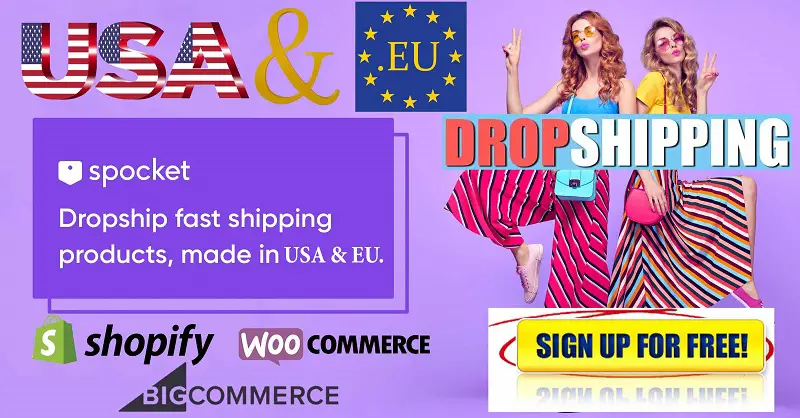 Price: Spocket pricing starts at $19 per Month. There is no free version.
Websites that use Spocket: These include berlioza.com or baybbrand.com.
Shopify was the first ecommerce platform to understand the importance of dropshipping. It quickly became the preferred platform for many dropshippers. While many platforms have improved their dropshipping offerings, Shopify remains our top choice for dropshipping.
The key advantages of Shopify
Largest range of dropshipping apps (some shown in the image below).
A platform that allows you to quickly create and improve your online store.
It is very easy to modify the products and pricing in your shop.
Only ecommerce platform that integrates with the popular Oberlo-app
Reasonably priced
Accepts many different payment methods
There are no sales restrictions on any plan
Your store can be stocked with unlimited products
Shopify pricing
Shopify offers three plans. The cheapest plan costs $29/month, while the most expensive is $299/month. Shopify also offers Shopify-lite, which allows you to ecommerce on your existing website. The Lite-plan is only $9 per month. Shopify is affordable even when you consider their regular prices. Shopify will be even more affordable if you subscribe for an annual or biannual subscription.
Shopify has its downsides
Dropshipping can be done with Shopify, which can be quite affordable. Shopify does charge extra transaction fees for purchases made in Shopify-built stores. Shopify states that the extra fees apply to the $29/month plan 2.9% + 30cs for each sale, and will decrease if you select a more expensive plan.
Shopify may not be the best choice to sell extremely low-priced products because of these fees. This is because the fees may force you to use a higher than what might be optimal.
Trial for free
Shopify customers who are new to the platform receive a 14-day trial for no cost. Even during the trial, you can still build a store. This includes, for instance, the ability to test different dropshipping apps and features. 
Shift4Shop
It's important to note that Shift4Shop used to be called "3dcart", and that their dropshipping program is still called "3dcart. Dropshipping". Shift4Shop offers a free ecommerce plan to U.S.-based entrepreneurs.
It might be worthwhile to try Shift4Shop if you want to dropship to make extra income. This is because Shift4Shop offers a dedicated dropshipping plan that allows you to make only $10,000 per year before you have to upgrade to another Shift4Shop program.
The prices above are indicative only. All purchases will renew at $9.99/month. Realistically speaking, it may not be a good idea to pay upfront for 3 year dropshipping-plan. Droshipping stores can often be very short-lived and you might discover later that Shift4Shop might not be the right fit for your needs.
However, Shift4Shops' dropshipping-plan may be a bit limited. It does have some great features. These include the ability to dropship products directly from AliExpress, and the fact Shift4Shop does not charge additional transaction fees.
BigCommerce
BigCommerce is the ecommerce platform currently growing the fastest. Dropshipping is something they seem to be keen on, so it is worth considering when starting a dropshipping shop. BigCommerce is more difficult to use than Shopify. Shopify is great for beginners and experienced ecommerce entrepreneurs. BigCommerce, however, is better suited for people who have knowledge about how to run an online store, a website, or coding.
BigCommerce's Standard plan is the cheapest, at $29.95/month. This is very similar to Shopify's lowest plan. The Standard-plan only allows for sales of $50,000 per month. Dropshipping is all about sales volume. BigCommerce's cheapest plan may not be the best option for serious dropshipping businesses.
BigCommerce offers two plans that enable dropshipping as part of the Essentials-portfolio. These plans are called Plus or Pro. You can make $180,000 in sales within 12 months with Plus, while Pro allows you to make $400,000 in sales over a 12-month period. The Pro-plan is $299.95/month, while the Plus-plan costs $79.95/month. You can save 10% on these two plans if you pay one year in advance.
If your BigCommerce-plan's sales limit is reached, you will be forced to either upgrade to a higher plan (applicable to the Standard or Plus-plans) and/or pay more to continue using the plan. (applicable to the Pro-plan).
Printful and Spocket are two dropshipping apps that integrate with BigCommerce. BigCommerce may not have as many dropshipping integrations than Shopify, but it does have some great partners.
BigCommerce new users receive a free 15-day trial
Wix
Wix may be the right choice for you if you're looking for an easy and quick way to dropship. Wix's platform makes dropshipping easy and works well with Modalyst, a rapidly evolving app.
Modalyst, a less well-known dropshipping platform, is great for finding products in geographical areas that other dropshipping apps may not be able. Modalyst recently announced that the app works with AliExpress.
Wix has a downside: it doesn't allow for as much customization as BigCommerce or Shopify.
Wix's ecommerce plans start at $23/month. You can also test the platform free of charge.
It's a good idea to know that Wix is a dropshipping platform that can be used by people who have used a "website creator" to build a website. Wix's online ecommerce platform is a complement to their website builder.
WooCommerce
WooCommerce is different from other ecommerce platforms. To be able to use it, you must have a website. To be precise, your website must have been built with WordPress. It might be worth looking into WooCommerce if you already have a WordPress website or are ready to make one.
This is because WooCommerce and its dropshipping plugins can be very affordable. WooCommerce is free to use and dropshipping plugins are usually less than $100/year.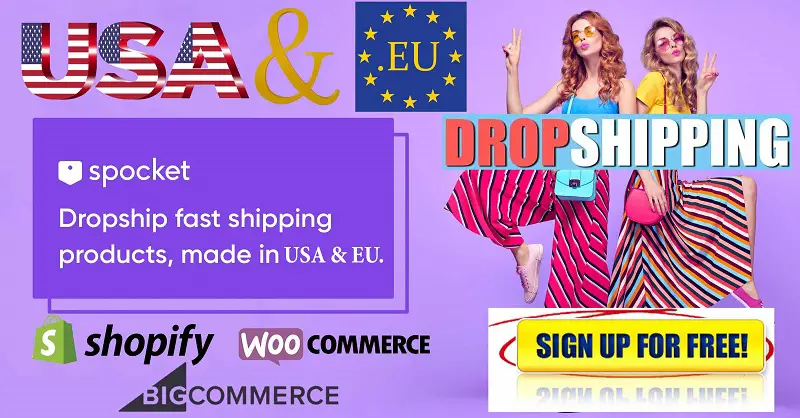 Although dropshipping is a major reason to choose WooCommerce, there are at least two additional benefits to choosing WooCommerce. The combination of WordPress+WooCommerce allows you to design and customize your store.
If you don't have a website, here are some ways to dropship cheaply with WooCommerce
Get a cheap hosting plan. You have two options: you can either choose from the standard hosting options, or you can select one specifically for WooCommerce. is a cheaper option if you're interested in the latter.
Install WordPress from your web hosting account. Most web hosting companies offer easy WordPress installation.
Go to your WordPress-site and choose "Plugins". From the main menu choose "Plugins", then click "Add New". Then search for WooCommerce.
Install WooCommerce. Now you can have an online shop.
Dropshipping plugins are required to transform your online store into dropshipping. This option seems to be a good one. It costs $89, and should be considered a one-time fee. This means that if your store is in operation for more than 5 years, the cost should not exceed $20/year.
Magento
Magento is the second-most popular ecommerce platform worldwide. Magento is complex, powerful and not suitable for beginners. Magento is an easy-to-use ecommerce platform that requires no programming knowledge. Dropshippers who use Magento as their ecommerce platform are either familiar with Magento store development or have hired developers to do so.
Surprisingly Magento's market share dropped from 2018's 13% down to 9%. This is mainly because Magento requires that users know some code.
User-Friendliness: Magento, an advanced ecommerce platform, has a user-friendly design. Anyone who wants to launch a drop shipping business may use it to set up an ecommerce site. However, they will need assistance in fixing errors and updating Magento. It is not recommended for beginners.
Support: Magento, a popular platform, is available to help you. There is an official forum where Magento developers and designers can help newcomers. It also has numerous off-site channels like Youtube channels, blogs and forums that users can use to get assistance if they run into difficulties while building dropshipping shops. Dropshippers can also use multiple Magento plugins.
Price: Magento can be launched by anyone with minimal assistance.
Websites Hosting on It: Magento is home to thousands of top ecommerce sites. It is used by retailers and manufacturers such as Selco BW and Dufry.
OpenCart
OpenCart is an easy-to-use ecommerce platform. OpenCart is easy to set up for anyone with a bit of tech knowledge. OpenCart offers a variety of free and paid plugins, themes and templates for dropshipping .
User friendliness: OpenCart was designed for ecommerce and offers analytics, payments, order volume, and payment options on the administrator dashboard. It is easy to use for those who don't have technical knowledge.
Support: OpenCart provides email and ticket support to its users. Opencart users have access to a forum that provides answers to questions they may face while setting up stores.
Price: OpenCart can be used for free. Hosting it is all you will need to pay.
Websites hosted on It: Many well-known ecommerce websites use OpenCart as their ecommerce platform. This includes the British Red Cross, For Fans by Fans and 6 Dollar Shirts.
Questions and answers
What is the average time it takes to set up a dropshipping shop? My experience shows that it takes less than an hour to build a dropshipping store. Dropshipping is a fast and easy way to sell products online.What does platform refer to in dropshipping context?
It is an online software program that allows you to quickly set up an ecommerce site and allow dropshipping.What are the top things to consider when selecting a dropshipping platform for your business?
1. Is it possible to create a trustworthy online store using the platform? 
2. Is the platform compatible with dropshipping apps you are interested in using?
3. Is the platform able to accept payment methods you think your customers would prefer?
4. Is the price reasonable for the platform? (Pretty much all platforms are).
5. Does the platform provide high-quality customer support?
Dropshipping is a better option than traditional ecommerce.
Dropshipping is a cheaper and quicker way to start selling online than traditional Ecommerce. Dropshipping offers another great benefit: it makes it easier to scale your business faster because you don't need to worry about shipping and warehousing.
Dropshipping: What are the main downsides?
Dropshipping can have a problem in that profit margins can be very low as dropshipping has a high barrier to entry. This problem can be overcome by finding unique/new products to market.
Dropshipping has a second problem. The quality of dropshipped products is often not the best. This can pose a serious ethical and financial problem. You can overcome this issue by looking for suppliers with a good reputation and products that have received positive reviews.
What features should you be focusing on when choosing between dropshipping apps?
First, you need to consider whether the app makes it easy for customers to locate products with high profit margins. You should also ensure that the app has suppliers who are close to your target market so you can offer quick shipping times to your customers. Thirdly, you should compare the prices of different apps. Some dropshipping apps can be free while others may cost more than $50 per month.