Reading Time:
6
minutes
Last Updated on May 05, 2021
Dropshipping: A Complete overview
Let's start by explaining what dropshipping is: dropshipping is a way of distributing and delivering products where the seller receives payment of the order amount and the customer receives the product directly from the manufacturer, not the seller.
About Dropshipping
Dropshipping revolutionizes e-commerce or online trading (and gradually enters traditional trading), dramatically expanding physical store catalogs. Dropshipping is a new trend of American origin, like almost all new business models, which is increasingly established in Europe and the rest of the world.
In electronic commerce, this distribution model marks a before and after, because it allows the owner to start a store without having to invest in stock storage and shipping costs. The seller reaches an agreement with a dropshipping supplier and does not need to worry about all the related logistics.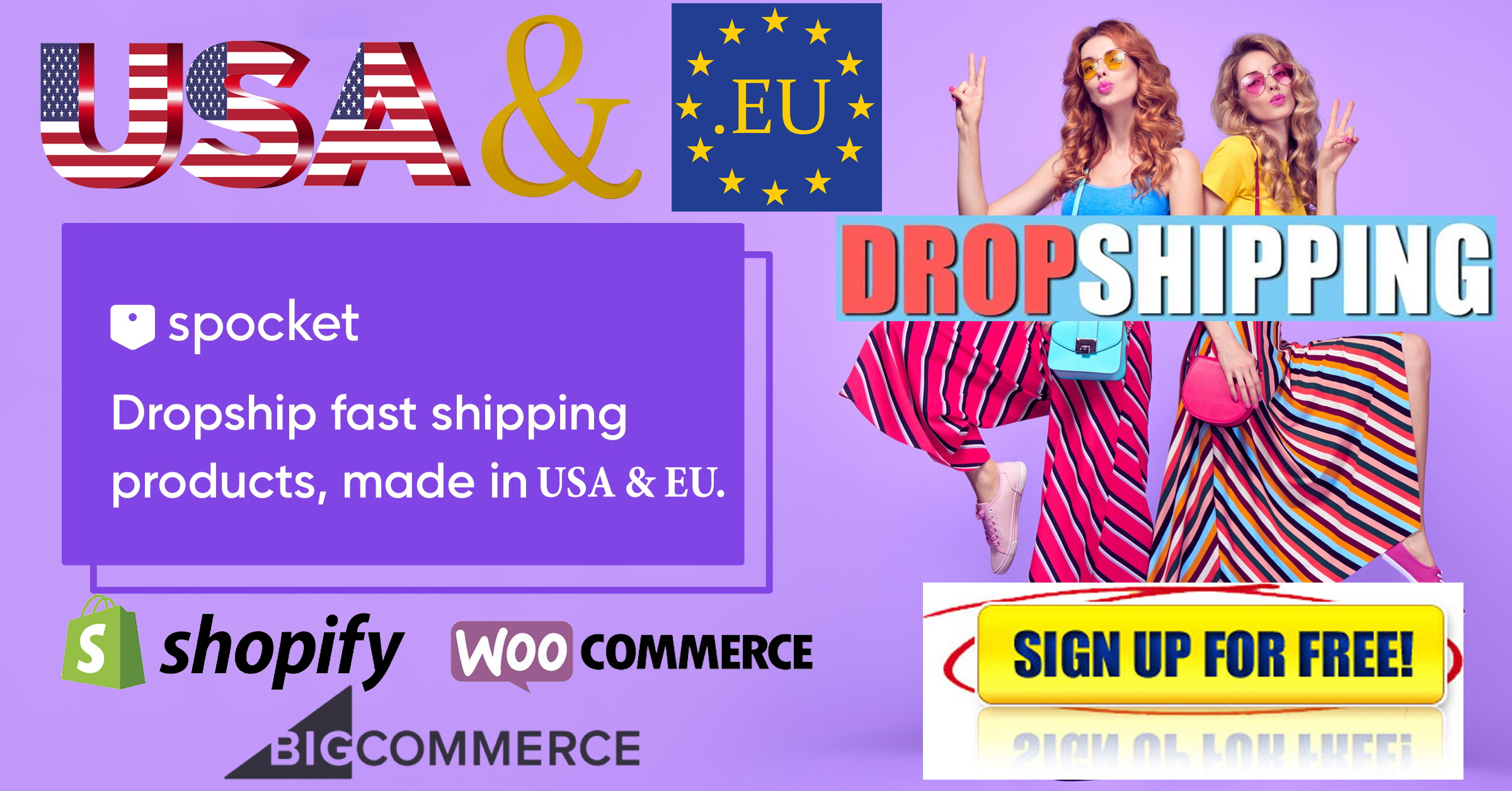 Dropshipping is a trend that has recently emerged in the business sector. Retailers can easily avoid inventory risks and uncertainties. Retailers run their business without inventory in Dropshipping.
Once a customer places an order, the order details are transferred to the manufacturer, who can further process it to ships the goods directly to the customers. Regarding the difference between their stated price and the actual price of the manufacturer, retailers make profits. The retailer may also agree to acquire a specific commission on the goods sold with the manufacturer.
It is a great strategy, and retailers just need to upload products to their website without handling them physically. It is good for those retailers who avoid losses and have no room to store physical stocks. The only problem with drop shipping is that you do not control the quality of the products.
Difference between Dropshipper and standard retail model
The biggest difference between dropshipping and the standard retail model is that it is not stored or stored by the seller. Instead, the merchant buys inventory to fulfill orders from a third party, usually a wholesaler or manufacturer, as required.
Dropshipping operating scheme
Will it be clearer? Next, we'll see the three protagonists who play in this business and how they relate in a more schematic way.
Client: Purchase an item in an e – commerce, without at least being affected if the delivery is in a hurry or not.
Seller: When the order is received, the seller places an order with his wholesaler.
Dropshipper: The wholesaler packages the order in a package where the seller's name and address (and never his own) are displayed. It sends it directly to the customer. The wholesaler receives the sales order from the end customer and sends it directly to the product, processing all delivery, customs and other delivery costs.
In this new sales method, the seller benefits in particular by avoiding storage. You can ignore this aspect and sell the product without having to buy it in advance. Once sold, the e-commerce owner benefits from the difference between the wholesaler's price and the retail price (PVP), which he specifies in his e-commerce.
Finally, the retailer acts as an intermediary between the wholesale dripper and the customer in a Dropshipping agreement or shipment.
Pros vs Cons
THE DROPSHIPPING PROS
1) Dropshipping is honestly one of the cheapest and easiest start – up companies, as it does not require much or no cash to start. In contrast to the traditional method of buying stocks in bulk, shops, photographs, ships and all the other tasks that dropshipping removes.
2) You can also try different product lines with dropshipping, which you are unsure of before you can buy anything that does not sell in bulk. It also eliminates one of the longest running aspects, namely shipping. With dropshipping, the price you pay the supplier is all included.
3) One of the greatest advantages of dropshipping is that products can be tested and tested without stocks. Nothing is worse than buying a product portfolio that hardly sells, and you still have to store it, which eventually costs you money. Theoretically, dropshipping is as risk-free as real-life market research.
4) A big plus from the last point is that you don't need space to store items. All you need is an internet connection and a PC. If you drop items that the supplier sends to the buyer directly, you don't even see the product as a big bonus, but it can also cause some problems that I will face later.
5) You can offer new products immediately. They are ready to be sold as soon as you upload your items to your website. No wait to be delivered and photographed for the products. When a retailer wants to start selling a product, they usually have to wait until they have sent all their stocks to start advertising them on their website. After all, what does it mean to sell an item if you can't sell it? Using dropshipping means that you can start advertising almost immediately when you decide to have a product on your website.
6) You save time with dropshipping. You can then wisely use your products to promote and market them. The whole work from a beach with dropshipping is actually possible. Naturally, a lot of work still needs to be done, but you get the point.
7) One of the biggest reasons why companies fail is because of overhead costs. You can work with dropshipping from anywhere in the world without having to store any inventory. You don't even need staff to help you select and pack orders. The only thing you need to do is market your website and maintain customer service.
DROPSHIPPING CONS
1) The biggest thing is the lack of control over the post-sales process. Since the supplier sends the product directly to the customer, you have no chance to check the quality of your product or to ensure that the product is even the right product. You also have no control over the shipping process. If you have a 3-day delivery window and your dropshipper doesn't hit the delivery window, then who is responsible? Sadly, it's you.
2) It isn't as beneficial as you might think. When you buy the product from a wholesale supplier at a much more discounted price. Naturally, when you sell a product that everyone else sells, competitors are cheaper than you are. After all, processing and shipping orders take all the risk and time. Dropshippers usually add up to £ 5 per product to a dropship service.
3) If your dropshipper can't keep to their orders, one big setback is. I know that sounds like a good thing from your side, because that could mean that you sell loads. However, you must remember that you probably have over a hundred other customers, such as your dropshipper. If one of these customers has a significant increase in sales, with which the drummer must keep up, it can have an impact on your lead times.  
4) Getting to dropshipping is easy. You can get a live website, which sells all the latest gadgets and has a super nice shop with a huge variety of products. It's so easy, actually, that at least a thousand more people are doing the same thing. See where I'm going? See where I'm going with this? Without a large brand behind you, anyone can and probably already have replications of what you are trying to do. This makes it so much harder for the competition to reach customers, which means that more money is spent on marketing.  
5) It is so difficult to distinguish when you sell a product that anyone else sells at a similar price. You can try to be the cheapest, but it's a game that you lose. Someone else is always willing to go cheaper, and the margins for drops can be small, first. Honestly, you don't have much flexibility and some suppliers have minimum advertised retail prices, which means you can't go down to a certain price.
6) Everything is good about how you get everything you need from the dropshipper, like photographs that are usually too small, poor quality and look just like your entire competition. Then you get the descriptions that are all the same. It makes it really difficult to distinguish your business if you have exactly the same photos and content for everyone. Especially if you also have the same price as the competition.
7) You can get into some very difficult customer service problems. What if a customer would like more information about a product that you don't really have? You could, of course, contact your dropshipper for information, but how long does that take? Although dropshipping eliminates shipping responsibility, it also removes a large proportion of your customer experience from your control. There is no way for a product to arrive on time or as described. When a customer requests complaints or inquiries, the resolution process is slowed down, as you often do not have the necessary details at hand and before a third-party supplier can resolve the query or complaint.
Now, I'm not trying to put a dropshipping business off you, don't get me wrong. As I said, I think it's a great business model and it involves less work and stress than a traditional business if you can do it right. I just wanted to inform you that you must consider it to be a real business and that it is not a success story for the overnight, as it can sometimes be publicized.