Reading Time:
5
minutes
Dropshipping is expected to grow in popularity and share of the eCommerce market. Ecommerce growth reached its highest CAGR (Compound Annual Growth Ratio) in 2020, when it increased 25.7% year-on-year. This growth will slow down over the next years, and average 11.9%. Dropshipping was valued at approximately 111.28 trillion USD in 2018, and is expected to grow at a 29% annual rate between 2020 and 2025. This shows that dropshipping is increasingly attractive to eCommerce sellers around the globe.
Dropshipping is all about finding the right supplier for you store, regardless of your niche. This is because you don't have control over your customers receiving their products. It can damage your reputation if you work with suppliers that ship low quality products or make mistakes during fulfillment. It is important to compare all possible suppliers and their strengths and weaknesses. Dropshipping from China can be a great way to get the lowest prices on the products that you want. However, there are many cons. We have listed all aspects you need to consider when looking for a Chinese dropshipping provider.
Transport timelines uncertain
Even though shipping companies in China are quite advanced, landed transport is the best option to get the cost advantage of Chinese products. It will also take a lot longer to deliver your products to your customer. Customers can expect to wait as long as 4-6 weeks before their order arrives. This is in contrast to ordering from a supplier located in the US, or the EU which takes up to 7 business days. Although airmail can be an option, it is more expensive and will have a significant impact on your product margin. When shipping products over long distances, you must also consider other factors such as protests, natural disasters, customs inspections, and lengthy customs inspections. We recommend that dropshippers who are just starting out in the business look for a supplier with an EU or US warehouse.
The "Made in China" stereotype
Even though some companies may not wish to admit it, consumers all over the globe still associate "Made in China." This tag has been associated for a long time with low quality products and poor working conditions in factories. While China has made great strides in improving the quality of its products and the working conditions of its labor force, it is still a problem that will be around for at least the next few decades. Your business will be more trustworthy if the source products are made in Western countries.
Language barriers and communication problems
Although English is taught in Chinese schools and colleges, only a small percentage of Chinese can speak conversational English. A study found that in China is the only language where or less than one in 100 can speak fluent English . Dropshipping from China can have its disadvantages. You may not be able to communicate with your Chinese supplier in English and you might have miscommunications that can negatively impact your customer experience. Although you have the option to communicate with your supplier using an interpreter, this will impact the speed of information flow and will also cost you a lot that you will need for your profit margin.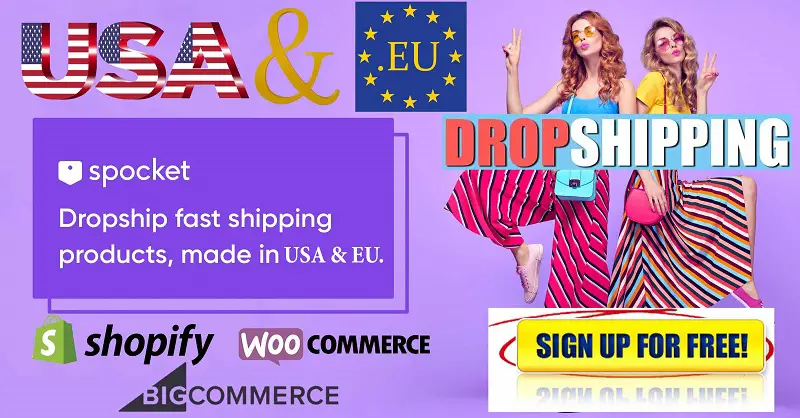 Potential issues regarding copyright and intellectual propriety
Your business could be at risk if it is accidentally exposed to counterfeit goods. This is especially true for luxury products. Dropshipping branded products through your online store is a risky business venture. You need to ensure that the products you sell are 100% authentic. A fake or counterfeit product can not only damage your reputation and trust, but it also violates copyright laws. You could face severe trademark infringement and copyright penalties depending on where you operate.
Large minimum order quantities
Dropshipping has the greatest advantage that you and your customers don't need to purchase more products than they need. However, this is often not the case with Chinese suppliers. Dropshipping from China can lead to minimum orders for lower-priced items. This is because dropshipping from China is the only way suppliers can lower production costs and offer better pricing. If you sell individual products that your customers only need a small amount of, this can prove problematic. To make an informed decision when looking at Chinese suppliers, ensure you ask about minimum order quantities. Dropshipping is a great option for small businesses that cannot afford bulk orders or bundles of a product.
Quality issues with products
Dropshipping is a great way to keep your store's reputation and trustworthiness. Dropshipping products means that you don't have any control over the quality of the goods you send to your customers. It is therefore crucial to be able trust your supplier and their quality. Although they may be less expensive than local alternatives, the quality of products you get from China will often be lower. You might find it more profitable to pay a premium for goods made in China and upholding Western quality standards.
Returns that are too complicated
Dropshipping from China can have a few drawbacks. Customers will likely not return items if they have to wait several weeks before their order arrives. It would take 4-6 weeks to ship the defective product back to China and another 4-6 weeks to get the replacement delivered to your customers. This is unacceptable in today's competitive economy. They will instead demand a full refund.
You must handle refunds professionally if you want your customers to be satisfied with your service and store. If the claim is valid, you will most likely need to immediately refund your customers. To receive a refund from the supplier, you can ask your customers to send the item back to you. If you sell low-ticket items, the shipping costs will almost always be more than the wholesale price. This is why it's not worth your time to ask your supplier for a refund. However, you'll have to pay the shipping costs yourself, which could negatively impact your profit margin.
Excessive competition
Dropshipping is relatively easy to enter, so many online retailers choose this model. This means high competition. Many dropshipping shops choose to work with Chinese suppliers in order to make high profits with lower-priced goods. This means that many dropshipping stores end up selling the same product from the same supplier. It will make it difficult for them to stand out from the rest and create their unique selling points. In order to remain competitive, this leads to price wars between retailers. They may have to reduce their profit margins or offer lower prices. You are better off looking for unique, smaller suppliers in your area that can offer you one-of-a kind products that will make you stand out and give you a competitive edge.
Manufacturers don't need your business.
Chinese manufacturers are becoming increasingly influential and looking to gain a foothold on online marketplaces like Amazon and eBay. According to statistics, 40% top-selling Amazon merchants are Chinese manufacturers. This is not dropshippers like you. This percentage will rise as they streamline their logistics and get the goods to the West more quickly. They are exploring the possibility of selling products directly from their local warehouses to European and American customers. They will no longer need dropshippers as middlemen. In the future, they will either compete directly with you or cease acting as a supplier. Dropshippers will then be forced to search for alternative suppliers.
Last words
It is important to consider all of these factors before deciding whether to use a Chinese dropshipping provider to do business. Every eCommerce store has different needs so you need to carefully consider what is most important to you and how you want your business to stand out from the rest before you make a decision. You will need to monitor the supplier's operations and quality products once you have made the decision to partner with them. You can adjust your supplier list to your advantage by conducting periodic supplier reviews.