Reading Time:
4
minutes
We are approaching the new year and it is time to talk about new trends that will have a significant effect on the dropshipping market in 2021. Most of us will recall 2020 as one the most difficult years in our lives. We must learn from all the challenges we faced this year to make them positives and create opportunities for growth.
You can look forward to the New Year with renewed energy and a positive outlook, no matter if you're a beginner or an established dropshipper. You should also be aware of the future trends in dropshipping by 2021. This means that you, as a dropshipper should be aware of all the changes and shaping the industry's future in 2021.
Dropshipping is one of the most lucrative industries that doesn't cease to flourish all year, so it will continue to be exciting and surprising us well into 2021. Covid-19, on the one hand, is responsible for speeding up certain changes that have been slow moving for some time. Other changes are happening naturally, and they have nothing to do the sudden pandemic crisis.
The rise of mCommerce
It's impossible to not expect mobile shopping to grow with today's rapid global mobile penetration. Dropshipping will continue to grow in the future 2021, and it's a trend that is sure to be a big one.
Dropshippers must shift their focus to a mobile-first approach. This means that while desktop shopping is still important, mobile sales will drive 54% of online sales (or $659 million) by 2021.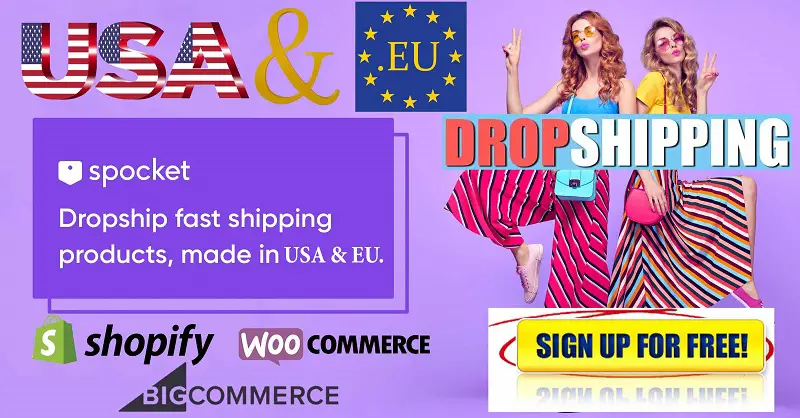 How can you prepare your dropshipping company for this trend? Your dropshipping website should be mobile-friendly. This will allow your customers to make purchases easily and quickly. It is important to create a simple, easy-to-use design and test the user experience. Track and monitor the checkout process after you have launched your website to ensure that it is smooth and doesn't result in cart abandonment.
The year of the omnichannel transformation
Your customers deserve seamless, integrated, seamless online shopping experiences. This trend, which many business owners take as a given, will be crucial to the growth of dropshipping shops in the future 2021.
This approach, also known as 'omnichannel' is the only one that can bring about a seamless shopping experience. What is omnichannel? An omnichannel experience, in simple terms, is an integrated experience that spans multiple channels and devices.
We can conclude that the eCommerce sector is the only industry that most benefits from omnichannel. The Covid-19-related lockdowns that pushed everyone to shift from retail to eCommerce may have influenced the rapid adoption of omnichannel strategies within the eCommerce industry. Online shopping became more popular and store owners began moving their business online. This will continue. The need to provide a seamless shopping experience has been further reinforced by the necessity for an omnichannel strategy as well as business transformation.
Dropshippers should make an investment in this trend to shape the industry by 2021. Omnichannel transformation means utilizing multiple channels in your campaigns, rather than just one. Businesses that engage customers through omnichannel advertising have higher conversion rates and customer retention rates. First, identify your buyer personas to establish a strategy. Next, you need to determine which channels best suit their needs, habits, and requirements.
AR and VR for the ultimate shopping experience
Dropshipping is now a place where customers can try before they buy. Dropshipping store owners are now looking at virtual reality (VR), and augmented reality(AR) to offer their customers a more personalized experience.
Online store owners are using AR and VR to present their products in a virtual setting, especially in light of the Covid-19 pandemic. The perfect time to explore the potential benefits of AR and VR for your dropshipping business is 2021. For those in the fashion eCommerce sector, VR and AR can transform the customer experience with your dropshipping shop and the products that you sell.
Digital voice assistants have become the norm
Voice search is another technological breakthrough that is rapidly developing. Voice search is expected to account for more than half of all internet searches by 2021. Amazon Echo, Microsoft Cortana and Apple Siri are more likely to be used in online searches in 2021, as people multitask at work, home, and even while driving. If you haven't yet optimized your dropshipping store to voice search, you are missing a great opportunity. This trend is expected to transform dropshipping in 2021.
How to optimize your dropshipping store for Voice Search? First, find out what the most popular questions are in your niche. Next, search engines and digital voice assistants can help you to answer these questions. Next, optimize your content so that it answers these questions as well as others similar to them.
Automation is essential
How to save money and time for your dropshipping company in 2021 Automation is the key word. It's clear that automation will become a major trend in the dropshipping industry by 2021. Instead of trying to manage a hundred different things manually, you should develop a strategy for automating your dropshipping company.
Automation does not always mean advanced technology solutions. Dropshippers have many options to automate and simplify their business operations. A dropshipping supplier that can automate your business processes by offering an integrated solution with eCommerce platforms such as Shopify or WooCommerce is something you should look for. Automation is best when you automate as many aspects as possible. Automating tasks can make your business run more smoothly without any obstacles.
It's that simple.
It is crucial to keep up with the trends in dropshipping that will shape the industry by 2021 for a successful business. The aforementioned trends lead us to conclude that technology is a key factor in the success of the dropshipping and eCommerce industries. It is essential that you adapt your business to the new technology available to you. You can only thrive in dropshipping in 2021 if you adapt your business to these emerging trends.