Reading Time:
9
minutes
Dropshipping allows you to sell online without having to worry about managing inventory or fulfilling orders. It's a no-brainer, to be honest. We looked at over a dozen dropshipping sites before narrowing it down to our top picks. We found Oberlo to be the greatest option for most people due to its comprehensive free plan, product catalog with millions of products in almost every category, and strong integration with Shopify.
Because Shopify is the most popular drag-and-drop ecommerce builder, it's only natural that our best dropshipping solution is created just for the Shopify platform.
With Oberlo, you can automate the delivery of millions of products across dozens of categories, dive deep into product-level analytics, enjoy automatic inventory and pricing changes, and define your own granular pricing rules. You have complete control even on the free plan without sacrificing the ease of use and flexibility you need in a dropshipping solution.
When it makes Sense to Invest Into a Dropshipping Company
If you want to build an ecommerce website, dropshipping is a terrific option. It's especially simple because you won't have to invest in storage space, prepaid inventory, or order fulfillment on your own. All you need is a unique idea, and you'll be able to get started right away.
Fortunately, the cost of getting started with dropshipping is low. That does not, however, imply that it is free. Most drop shipping providers charge a small fee for access to their suppliers in addition to the cost of your website.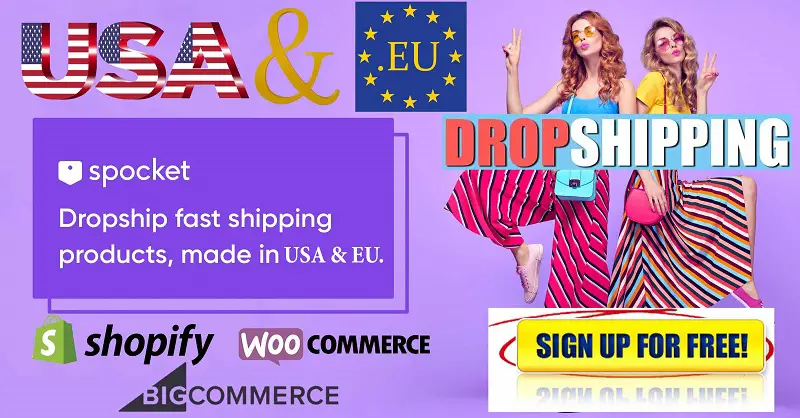 The good news is that you can start a dropshipping business without knowing what you'll sell. This will assist you in identifying possible high-margin products to market and who to sell them to. This can even aid in the proper direction of your website, marketing methods, and business model.
Once your website is up and running, you'll have everything you need to stock your online store and introduce your new brand to the world.
Dropshipping is also a good option for established ecommerce businesses and brands who want to increase revenue without incurring the additional costs of manufacturing, storing, and fulfilling their products.
Oberlo — The Best Dropshipping Company for Most
Shopify is one of the most popular ecommerce systems for traditional ecommerce companies and dropshipping, which comes as no surprise. It includes the most flexible product management tools and an amazing drag-and-drop user interface that packs a punch while remaining user-friendly.
Using Oberlo in conjunction with Shopify produces a powerful combination for business growth and income generation. But the best part is that both are exceedingly simple to use, even if you have no prior ecommerce or dropshipping knowledge.
Oberlo is our top pick because it works SO well with Shopify, whether you want to dropship with your products or rely exclusively on dropshipping.
Because it comes with a properly created database, finding products is simple.
The time and care that went into it result in a straightforward and manageable product structure that allows you to sell and add new inventory in a few clicks without pulling your hair out.
It also gives you the option of automatically pricing things based on your own set of rules. Want to increase your revenue by 50% by adding a 50% markup on everything? It's no problem.
Do you want to give a discount on a few products from a particular category? Oberlo makes it simpler than ever before. And it's completely automated, so you don't have to spend hours changing every product across the board manually.
You may explore millions of products in specialized areas, obtain market-driven insights, and automate your entire ecommerce process using this tool. It's true. It doesn't get much more straightforward than this.
Oberlo offers a free starting account that allows you to upload up to 500 goods. It also includes all of the essential features, such as:
Orders can be placed at any time during the month.
Updates to the inventory
Analytics and product statistics
mapping of variants
Automated product pricing
Reports on sales
You can switch to a subscription plan for $29.90 per month if you need more products or want access to additional services like bulk orders, Oberlo's affiliate program, and numerous staff accounts. Up to 30,000 goods are included in this package.
Oberlo's platform is happily wedded to Shopify, so if your business already uses Shopify, this pairing is a no-brainer. Oberlo, on the other hand, does not support other ecommerce platforms, so you'll have to go with something else if you're not utilizing Shopify.
Wholesale2b — Best for Unlimited Order Processing
Do you think dropshipping is all about filling orders while you sit back and relax, clicking a few buttons, and watching the money stream in? It's a little more complicated than that. However, you can simplify a lot of things with Wholesale2b.
It's a good start to have access to over a million things in one place. The capability of complete order processing is where Wholesale2b shines.
The cost of processing an order is usually between $2 and $5. However, it can be more or less depending on other factors. Going over your plan's limit might be a significant financial hardship.
You can now shrug your shoulders if you aren't doing a lot of volumes.
Wholesale2b, on the other hand, will save you a significant amount of money every year if you are producing products and expanding your business.
Another feature we enjoy about this provider is that you don't have to join up with each supplier separately, and you can manage all of your orders from a single dashboard.
All orders are instantly imported to Wholesale2b once your website is synced. This makes it simple for you to process everything without having to enter any data manually.
It also helps decrease human error and saves you a lot of time to otherwise waste switching between programs.
Wholesale2b has several apps that are compatible with a variety of ecommerce platforms, including Amazon, Shopify, BigCommerce, and eBay, allowing you to sell on all of them.
Their paid programs are extremely cost-effective. The cost is determined by the platform you choose to use:
$29.99 per month for Shopify, Weebly, BigCommerce, WooCommerce, and Ecwid
$39.99 per month for a dropshipping website (including hosting).
$37.99 per month for Amazon, eBay, Facebook, and Magento
All paid options include fulfillment and automated inventory updates, tracking codes, and other features. So, unless you want to, you won't have to get your hands filthy with orders.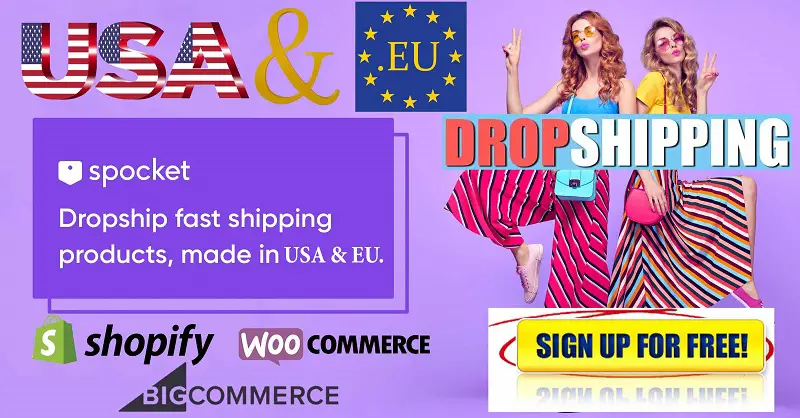 SaleHoo — Best Pre-Vetted Dropshipping Supplier Directory
Nothing irritates a dropshipping business owner more than not getting what they asked for, right? To add insult to injury, it also impacts your customers' perceptions of your company.
If consumers expect high-quality products and instead receive something less than that, your company will not last long.
SaleHoo is a directory of wholesale suppliers. There are over 8,000 pre-vetted suppliers on the site, and you can sell over 2.5 million products.
Disney, Xbox, Canon, Apple, Adidas, Gap, Sony, Revlon, Converse, and LEGO are among their most popular brands.
You may put your faith in SaleHoo's dependability because you have access to the top brand names in a diverse variety of sectors. For over 15 years, they have been assisting businesses with this issue.
Because you know your suppliers are reliable, you're getting aid with product management as well. In addition, they've all been pre-vetted so that you can spend less time researching and more time running your business.
You can also utilize SaleHoo's market research laboratories to locate hot products and compute profit margins automatically.
In addition, the SaleHoo supplier list includes exclusive secret price bargains available exclusively to SalesHoo members. Who doesn't appreciate the opportunity to save money?
SaleHoo's pricing is as clear as it gets. A one-year membership costs $67, while a lifetime membership costs $127.
Consider resolving this issue with a single payment.
The lifetime subscription is the ideal option if you want to use SaleHoo for longer than two years. Regardless, SaleHoo comes with a 60-day money-back guarantee, so you can test it out to see whether it's perfect for you.
Worldwide Brands — Best for Lifetime Product Access
Worldwide Brands is a dropshipping directory with a 20-year history. They have an A+ rating with the Better Business Bureau and a five-star rating on Trustpilot.
It pays to access one of the most reputable drop shipping directories—both in terms of money and time.
The worst thing you can do is spend an entire day looking for things, jumping from one website to the next, only to come up empty-handed. Not to mention not knowing if the product's quality is worth your company's name is associated with it.
You can find over 16 million recognized wholesale products from reputable wholesalers in the Worldwide Brands directory. Worldwide Brands gives your lifetime access to all of this for a single cost.
For $224, you can purchase a lifetime membership. It's a little more expensive than SalesHoo lifetime access, but the product list with Worldwide Brands is more than six times greater, so it's justified.
Methodology for Choosing the Best Dropshipping Company
How can you identify the finest dropshipping company for you when there are so many options on the market? When shopping for a dropshipping company, there are a few factors to bear in mind.
Because we all have different wants, you must choose which company can best meet yours. This is the approach we employ and propose for your search.
Value and Cost
It's a good idea to understand your cost-to-value ratio and what you'll get in exchange for your money. Depending on the pricing, different suppliers offer additional features and perks. Furthermore, some have various regulations and prices for how inventory is sourced.
Some dropshipping services give many suppliers, while others provide automation, centralized control, or specialized connection with Shopify, AliExpress, and eBay.
The amount of value you obtain depends on the price. It will mostly depend on tackling the aspects of your dropshipping business that you want to improve the most—selecting a platform that caters to what you want to give to your target customers, or if you're just getting started, selecting a platform that caters to what you want to deliver to your target customers.
Dropified offers a full 60-day ecommerce training program for $47/mo, which will clear up any uncertainty about how to use their tools. This enhances Dropified's comprehensive integration with all major ecommerce platforms by allowing you to discover the crucial nuances of a successful drop shipping operation.
It's vital to note that some suppliers have limited terms and conditions. For example, they may stipulate that you add things in a certain way and sell them in a certain way.
This is crucial to know because, even if you get fantastic front-end functionality for less, you may run into serious problems with your business if your clients demand a certain product that you can't supply. After all, you chose a less expensive platform.
Do your homework, as always.
The few providers on this list who give you lifelong access to their platform for a single rate are a superb example of maximum cost-to-value ROI (over 16 million products from trusted retailers.)
SaleHoo and Worldwide Brands charge a higher initial fee, but you don't have to pay by the month to use their product database. You also enjoy the peace of mind that comes with dealing with well-established organizations with a proven track record of excellent service.
Platform Compatibility
Some service providers specialize in only one or two product categories or ecommerce platforms. This may be just what you need, depending on your aims and the things you wish to offer. It clarifies the scope and daily activities while making it simple to get started because you know who you're dealing with.
The disadvantage is when you have problems with your provider or manufacturer.
If things aren't up to your customers' standards, you'll have to endure sluggish delivery or bad product quality.
Having your hands restricted in this situation might lead to a drop in revenue and flexibility, which isn't good for business growth.
Importing products into your store is the same way. You may require a versatile platform that allows you to import products quickly, set prices and descriptions, and choose color options and other features.
The platform on which you work has an impact on your business. If you don't use a platform that makes this easy for you, you'll have a lot of trouble getting what your customers want.
Again, it would help if you were explicit about your requirements. If you have a Shopify store, we have a provider on our list—Oberlo—a Shopify dropshipping expert.
If you need name-brand products or wish to interact with other platforms like WooCommerce, eBay, or Shift4Shop, a more flexible source like Inventory Source is a better option.
Managing Products and Suppliers
Customers don't care how your things are delivered; all they worry about is whether they get what they asked for. It's intolerable to be without a reliable source of goods; your reputation will be shattered, and your reviews will serve to highlight this heinous truth. Your thriving company will implode like a cement block.
If you don't know what to look for, finding a reliable source might be challenging.
Spending time reviewing indicators such as company ratings and order history eats up time and is draining. Even so, there's a chance you won't get it correctly.
Some dropshipping services provide you with the assurance of working with certified vendors. You'll be given a list of providers you can trust, all of which have a proven track record of providing high-quality products on time.
Dropshipping is a never-ending juggling act of new and old products, reorders, and first-time tries. There are two ways to manage products. It's either a breeze to deal with or a dreaded period of the week.
It's critical to look for software that allows you to select, browse quickly, and edit products with all of the details you require with the touch of a button.
Providers who ask you to order the product from them first before sending it to your consumer should be avoided. This turns you become a middleman, which adds time to the process and is the polar opposite of why you're in the dropshipping business.
What about the tracking aspect? With integrated order tracking, you'll have no trouble answering client questions regarding their goods.
Consider how your day will go if you don't have these possibilities. When choosing your dropshipping software, keep this in mind.
Product Automation
Without automation, no firm can function effectively.Imagine having to manually add every product you wish to sell, building on the product management portion above. Sure, if you only have a modest inventory, it might not make a big difference.
You may manually go over all of the dimensions, colors, photos, and product descriptions.
But are you sure you want to?
Isn't it better to concentrate on marketing, customer service, or something else that can help you grow your company? Instead, you're squandering opportunities for progress by typing away on a keyboard.
Some suppliers provide incredibly extensive automation methods to assist you in taking control of your workflow and free up time in your day.
Pricing automation is an example of this. You define global pricing for products and create pricing rules for product categories, automatically setting pricing for you.
You are no more fussing with calculators and percentages at the kitchen table to determine if you'll make a profit. Instead, it's as simple as calculating an average retail price for a product and using a rule to multiply the base price by the profit margin to get an exact profit margin.