Reading Time:
6
minutes
Dropshipping is a popular method of selling nowadays which is why so many online store owners use dropshipping instead of more traditional methods. By using dropshipping, e-commerce store owners get access to a wide variety of products without having to spend big budgets on creating, storing, and shipping these products in the first place.
To set up their stores, owners generally use a dropshipping database or dropshipping suppliers to get their products. If you decide to set up your own online store and start working with a dropshipping database or supplier, here's everything you need to know about how to find a dropshipping database or supplier.
https://unsplash.com/photos/m49HAhhL1fE
How to Choose a Dropshipping Supplier?
Before getting into the best dropsshiping database and supplier options available to you, it's important to understand how you can choose the best one for your needs:
Use a Database: Instead of immediately going for a supplier or multiple suppliers, consider using a dropshipping database. Suppliers can usually provide you only with their own products, so you have a limited selection of items to sell. On the other hand, a dropshipping database gives you access to multiple suppliers immediately, so you have more options to choose from.
Set Your Priorities: Decide what is important to you. Do you want to sell the latest trending product? Or do you want to focus on an "evergreen" selection of products? Do you want to work with a big and popular supplier? Or do you want to partner with new and smaller suppliers? Or are you looking for a dropshipping database?
Select Multiple Options: Don't settle for your first choice and instead, select multiple options. Once again, this is all about variety. The more options you have to choose from – even if it's multiple databases that you have chosen – the more accurate your final choice will be.
Work with Different Suppliers: Rather than choosing a single supplier to work with from the beginning and then partnering with more suppliers over time, work with different suppliers from the beginning. This way, you can see which suppliers are better for you and then end your partnership with those that don't work well.
Why Should You Use a Dropshipping Database?
You may be wondering why you would want to use a dropshipping database when you could just immediately start working with suppliers. After all, isn't a dropshipping database like a third party that prevents you from directly partnering with suppliers? Well, yes and no.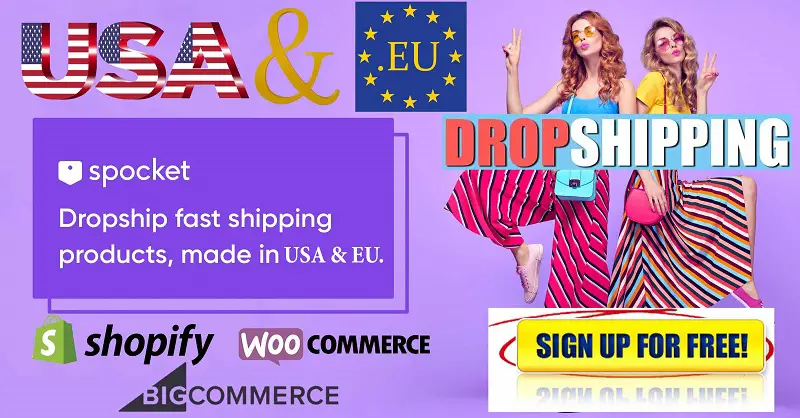 There are two main benefits of working with a dropshipping database. One is that you get access to multiple suppliers all in one place through a dropshipping database. The second is that you won't be scammed by these suppliers because every big dropshipping database checks their credibility beforehand.
Sometimes "dropshipping database" and "dropshipping supplier" are used interchangeably to refer to the same thing i.e. a dropshipping company that you can work with to sell products through dropshipping. In any case, here are some databases and suppliers to check out:
#1 AliExpress
You've probably heard of AliExpress one way or another. Most merchants selling through this dropshipping database are based in China with the platform offering over 100 million products in categories that range from fashion to vehicles. This dropshipping database ships products to 254 countries around the world. You can also use it with Shopify for free or with one of the three paid plans.
#2 Alibaba
Both AliExpress and Alibaba are owned by Alibaba Group, though they operate differently. Alibaba is one of the biggest B2B marketplaces in the world that connects buyers and sellers. You can use this dropshipping database for wholesale purchases directly from manufacturers. There are over 2.8 million suppliers on the platform and over 5900 product categories to choose from. While AliExpress is more suitable for beginners, Alibaba is the perfect choice for experienced dropshippers.
#3 CJ Dropshipping
CJ Dropshipping is another popular dropshipping database based in China. You can use it as a free Shopify to make sourcing easier. This dropshipping database uses US-based warehouses, so shipping and delivery can be executed faster for North American purchases. This dropshipping database sources its products from two other e-commerce platforms – Taobao and 1668. Both of these are known for housing small businesses and independent designers, so you will find both popular and niche products on this dropshipping database.
#4 SaleHoo
SaleHoo is a dropshipping database and supplier directory with over 8000 wholesalers that is popular with resellers on Amazon and eBay. Though this dropshipping database isn't free to use, its annual fee is quite affordable. This dropshipping database sources its products from AliExpress and serves the US, UK, and Australian markets which means you may need to localize your store for British and Australian customers. You can hire a professional writer from the writing services reviews site Top Writing Reviews to help you with the localization.
#5 Wholesale2b
As the name suggests, Wholesale2b is another wholesale and dropshipping database. The platform offers real-time automation, so you can see all the orders and tracking updates in your Shopify store. You can choose from over a million products in a variety of niches. This dropshipping database only serves the US and Canadian markets, so it is ideal for e-commerce store owners who sell to North American customers.
#6 Worldwide Brands
Worldwide Brands is perhaps one of the most well-known wholesale directories. This dropshipping database is very strict with its selection of suppliers that must meet specific standards to be accepted on the platform. This is a dropshipping database that operates worldwide, offers over 16 million products in niches that range from electronics to jewelry, and gives you lifetime access with a one-time fee.
#7 Modalyst
Modalyst is an automated dropshipping database with luxury brands like Calvin Klein and Dolce & Gabbana among others as well as different independent brands with trending products. What's great is that this dropshipping database also has an official API partnership with AliExpress which gives you even more access to different products. This dropshipping database has suppliers that ship to the US, UK, and Australia. Businesses can also ship to 80 other countries. To get access, you can choose between a free plan and two paid plans.
#8 CROV
CROV is a dropshipping database for those who want to get connected with pre-vetted US dropshipping wholesalers. You can then ship to 42 different countries and choose from 35 thousand products. One unique feature that makes this dropshipping database stand out is the product request feature. You can contact CROV's sourcing team to help you find products or suppliers for your business. If you need help writing your request to make it more detailed, you can hire an experienced writer from the custom writing reviews site Rated by Students.
#9 Spocket
If you are using Shopify for your store, then Spocket is for you. This is Shopify's dedicated dropshipping app that helps store owners import products from a dropshipping database (like AliExpress) or supplier directly into the Shopify store. This dropshipping database works with suppliers worldwide and offers product categories that range from tech to pet products. There are one free and three paid plans.
#10 Doba
Though Doba only has 165 suppliers, it is unique in how it integrates with them instead of simply listing them like a typical dropshipping database. What this means is that you can order from multiple warehouses from a single interface which makes operations easier for e-commerce store owners. This dropshipping database lets you ship globally and choose from over 2 million products, though the monthly access fee may be a bit too high for some e-commerce store owners.
#11 Wholesale Central
If you are looking for a dropshipping database that is completely free to use, then Wholesale Central is for you. This platform instead charges suppliers to be listed and hosts ads on its site. All vendors are US-based and screened before being added to the directory. This dropshipping database has over 1400 sellers and 700 thousand products to choose from.
#12 Sunrise Wholesale
One more dropshipping database you should consider is Sunrise Wholesale. With over 15 thousand products in different categories, it ships items directly to customers in US and Canada. You also get access to reporting tools, inventory updates by email, product data, automatic price adjustments, and more. The monthly membership fee for this dropshipping database is quite affordable too.
#13 Megagoods
Last but not least, Megagoods is a dropshipping database and wholesale distributor based in the US that ships worldwide. There is a variety of products, but the main focus is on consumer electronics so it is ideal for tech online stores. Before you start paying the monthly fee, you can try this dropshipping database for free for 30 days.
Final Thoughts
All in all, using a dropshipping database or partnering with multiple dropshipping suppliers is one of the easier ways to start selling products in your online store. It's a great option for anyone who doesn't want to create, store and ship their own products. Use the tips in this article and the provided dropshipper examples to help you find your own dropshipping database or supplier and start working with them in no time.
Author's Bio:
Max Mitchell is a freelance writer who currently works with AccurateReviews. He is very passionate about typing, creating complicated spreadsheets, and consuming an inhuman amount of caffeine. Nevertheless, he is also the creative type of individual who will always find a new perspective on topics of interest.