Reading Time:
3
minutes
Dreams of starting your own business may become a reality by creating a dropshipping online store. It is also necessary to conduct dropshipping keyword research to pick up the right words and phrases to make sure that more people would be able to access your online store. You should also think of the overall dropshipping SEO strategy, especially the off page tactics. This all is necessary to improve SEO on Shopify or another eCommerce platform hosting your business online.
How to create a dropshipping online store?
There are lots of tools that allow for starting and managing your business in the online environment. This could either be a typical ecommerce website with embedded payment methods for making online purchases or dedicated platforms where you can create online stores. One of the most popular ones is called Shopify – it has everything you need for crafting a dropshipping online store in minutes.
Whatever method and platform you choose for your online store, you should make the basic setup and configuration. Those are usually the menu, design, analytics, and other necessary settings for managing your online store. What is more, you need to consider SEO as the primary means to promote your store on the web and help people find it.
Guide for dropshipping SEO
As SEO stands for search engine optimization, it means that you need to utilize techniques to lift your online store up on Google rankings. The tactics you apply for Google would also work for Bing, Yahoo, and other global search engines. Elaborating on the SEO strategy for your dropshipping online store is crucial as it helps to introduce your website to lots of people on the web.
Keywords
First of all, you should think of dropshipping keyword research tactics for selecting the right phrases to attract more customers. There are dedicated tools, most of which are even based on artificial intelligence, that are designed to find the right keywords with high ranking potential. Using such keywords on your product pages would mean that you pages would appear high on search engine result pages once users make corresponding requests and would outrank your competitors.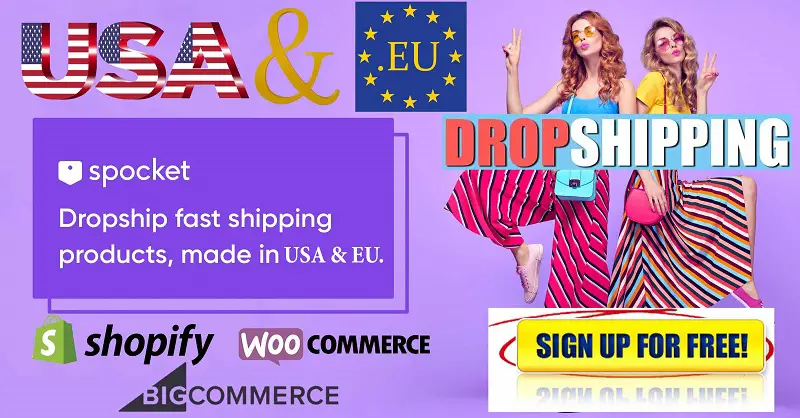 Backlinks
To make the product pages of your online dropshipping store highly visible on Google, you should work on the off page SEO strategy. This means you should rely on link building as one of the most effective off page methods to ensure the best results in the promotion of your online store.
Very often, webmasters start gaining backlinks from other platforms, websites, and online sources to enhance the domain ranking of the online store. There are also dedicated platforms where you can get quality backlinks for eCommerce websites. Gaining backlinks can be compared to gathering berries – the process might be labor- and time-consuming, while the result is awesome in the end.
Guest posts
Another way to promote your online store is to refer to popular online blogs on the web and ask to write articles for them. Such a tactic is usually called guest posting or guest blogging, and appear to be a very effective approach in enhancing customer awareness of your online store and products. To publish guest posts, you should find the appropriate online sources that post guest articles and then create the content for them.
Tips to improve SEO on Shopify
Compared to conventional websites where the eCommerce online stores should be done practically from scratch, Shopify has built-in SEO instruments. They appear to be great assistants in the promotion of your dropshipping online store. Anyway, you might want to
improve SEO on Shopify for even better Google rankings.
Adjust store structure
Have a mindful look at your dropshipping online store and think about what could be improved there. Before that you might explore several similar stores of your competitors to understand what could be done better and what things might be removed at all. Once your dropshipping online store structure is adjusted, users will certainly find it easier to navigate your entire store and find the necessary products.
Improve user experience
Another aspect to pay attention to in your Shopify online store is the design and layout of pages. Shopify offers a standard set of design options within a theme, but everything could be easily modified if needed. From the analytics, explore how much time users spend on the website and whether they stay long on store pages. If such an index is not good enough, it means that you should think of how to better arrange the elements on product pages and enhance the overall design in general.
Build links
To enhance the visibility of your dropshipping online store and improve SEO on Shopify, use effective link building tips for better results. Link building has always been the cornerstone of the off page SEO strategies, so you should also think of implementing this tactic even if your store is based on the Shopify platform. Reach out to other online resources for asking for a backlink to your dropshipping online store or to one of its pages.
Dropshipping SEO tools
There is a variety of Dropshipping SEO tools that help webmasters to make a profound analysis of the online store performance. Select the ones that suit your needs best, and start tracking your dropshipping online store to better understand customers' behavior and explore how competitors' perform.