Reading Time:
8
minutes
Start a dropshipping company?
Dropshipping is a fast-growing market that can help you build an online store. You will always need to have a variety of suppliers. They are the heart of your business, and you are the brain.
Dropshipping platforms can help you meet your needs. Spocket, Modalyst and other platforms are currently the hottest buzzwords in online marketplaces.
Spocket as well as Modalyst are very popular with independent dropshippers, and people who have switched from old dropshipping methods.
Which one is best for you? Let's compare Spocket and Modalyst to find out which one is best for your business.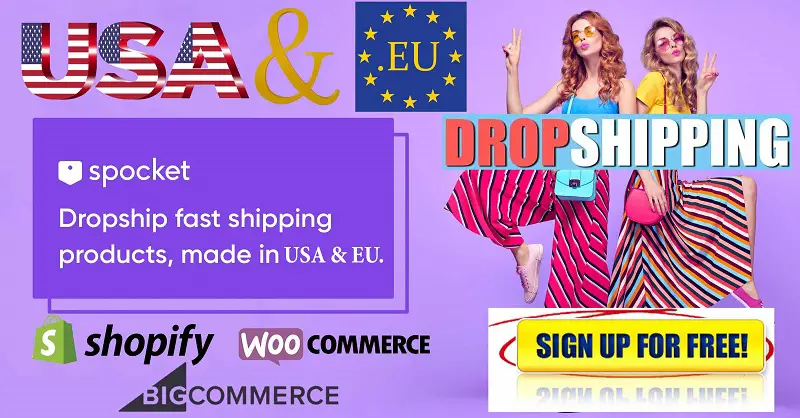 A Brief Overview of Dropshipping
What is dropshipping exactly?
It's an online business model to sell products that doesn't require product storage, shipping or logistics operations. You are essentially a third party, or a marketer, and you don't even touch the product.
Imagine that you find a shoe for $50 on a supplier's site. The product would then be listed on your website for $80. You would then list the product on your website for $80. The customer orders the shoe from your site. Once the order is received by the supplier, the shoe will be shipped directly to the customer with the brand name.
Suppliers are responsible for managing the inventory, order fulfillment and shipping operations. People don't buy anything directly from suppliers without learning about the product. They don't just buy the product, they also care about marketing, trust, lifestyle and emotional attachments.
Dropshipping allows you to focus on the right marketing strategies, and target the right people.
Dropshipping is a popular business option for many entrepreneurs.
Dropshipping was popularized by ecommerce giants such as Amazon, Alibaba and eBay in the mid 2000s. It wasn't easy, however.
Working with wholesalers or individual companies was difficult. It was necessary to filter out companies that could comply with your requirements. Dropshippers could only carry items from the clearance section due to many restrictions. Catalog restrictions also restrict your ability to access less diverse products.
They still had to fulfil the orders manually after they got the products onboard. Dropshippers in the early days were plagued by problems such as a lack of a tracking system and legal liability.
In the initial stages of social media, there wasn't much marketing awareness nor engagement. Google Ads was the only online option to promote your products, which was (and is still) very expensive.
These things have changed. All manual tasks can be automated with dropshipping platforms such as Modalyst and Spocket. It is easy to reach out to wholesalers and brands that match your business requirements.
You can pre-negotiate supplies and inspect the quality before you import the products to your website. The order fulfillment and shipping process is transparent and quicker. They are SEO-friendly and can be integrated with omnichannel marketing. They can also integrate with eCommerce web builders like BigCommerce and Shopify.
Let's now look at Spocket and Modalyst.
What is Modalyst?
Modalyst connects your ecommerce shop with suppliers via an automated dropshipping platform. Modalyst simplifies the process of selling online by automating tedious tasks such as updating product prices, syncing product inventories, and routing orders to suppliers.
You can choose to have your suppliers be random wholesalers, or small brands. This ensures that the product quality is maintained. You will also find that different sellers have different shipping and logistics policies. Modalyst goes through a rigorous vetting process in order to guarantee that their services are reliable and trustworthy for customers.
Modalyst has a variety of product niches, and offers scalable sourcing options. Modalyst currently has a majority of its suppliers coming from Europe and the US. This platform also has many long-term suppliers who are drop-shipping products. This makes it easier for online store owners and managers to reach both domestically as well as internationally.
How do you integrate Modalyst into your ecommerce shop?
Imagine that you own a Shopify-based online shop. You can download Modalyst from Shopify's App Store and then set up your products within a few mouse clicks.
All product information, including images and price tags, is automatically synchronized from the seller to your website.
Modalyst's Instant Notification feature allows you to check any order from customers right from your dashboard. You can also pay your supplier sooner.
Once your supplier has received your payment, the package will be sent directly to the customer.
Modalyst allows you to create your brand on a platform called Modalyst. The seller must not mention your brand on the package while shipping the product. This allows your store to build a relationship with your customers, even though the product has not been manufactured or droppedshipped.
You will learn how to manage customer orders, track shipment status, and have conversations with them.
Modalyst was founded by Jill Sherman in 2012 and Alain Miguel.
Business Ratings: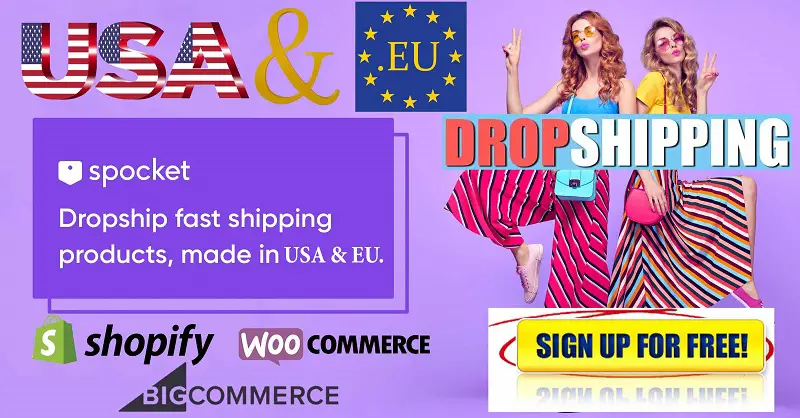 Shopify: 4.4/5
Wix: 4.6/5
BigCommerce: 4.5/5
G2: 4.5/5
What is Spocket?
Spocket is a new dropshipping platform that's growing quickly. It helps you find the best products to grow your online business.
Spocket is an innovative platform that allows you to discover niche products and connect with trusted suppliers. It also streamlines your product order process. To ensure quality, you can order product samples directly from suppliers.
Spocket quickly built a large marketplace with 60% of its products being dropshipped from the US, Canada and EU. Spocket has also expanded its supplier reach to Australia and New Zealand.
Spocket is not just for suppliers. It allows you to select hot dropshipping products in 50+ categories, including wardrobe, beauty products and tech accessories.
You can manage your store with just a few clicks using the platform's robust UI and customizable options.
Spocket is different from other dropshipping services in that you can search for specific products based upon seller location, rather than spending time looking at random options. This option is best if your sellers are located near your customers. This would decrease the time it takes to fulfill orders and ship them, which can otherwise take up to two weeks. You can see the estimated delivery time for each product before you add them to your website.
Search suppliers via the "Search Products" page. Here you can view their profile page, rating, shipping times, and location.
Spocket is the best Omnichannel selling service. You can import your products to Shopify or WooCommerce, as they support lightweight native apps. Spocket also supports Instagram, Twitter, and Facebook so you can directly sell your products to these social media users.
Spocket was founded by Saba Mohebpour in 2017 with the help of Tom Hansen.
Business Ratings:
Shopify: 4.6/5
Wix: 4.3/5
BigCommerce: 5/5
G2: 4.5/5
Which Platform is Better for Brand Invoicing?
Can you be a brand and still own the products? Yes.
Dropshipping services such as Modalyst and Spocket allow you to promote your brand, increase business recognition, and build trust.
But how do you get there?
Brand invoicing. This is a way to display an invoice (like a letterhead) in your web store's name to customers, provided that the supplier name is not visible. This is a way to show your customers that the products are actually owned by your store.
Both platforms offer similar billing methods, so I believe they can be compared. Your store logo, name, email address, and contact number can all be included. You may also include a coupon code for the next purchase. A personalized thank you message can be left at the bottom of your invoice.
Although many of the invoicing features are indifferent, there is an important difference.
Spocket allows you to attach your logo and personal notes only if you are a subscriber to the paid plan. Modalyst allows you to create customized invoices even if you are on a free plan.
Which Platform Offers Better Product Quality?
Dropshipping can be made or broken by the quality of your products and the reliability of your suppliers. Your dropshipping business will be affected if the product is not delivered on time, packaging defects are discovered, or customers do not receive a tracking number.
Spocket, Modalyst and Modalyst are dropshipping platforms that ensure these suppliers can be trusted. It's no longer necessary to spend hours searching for suppliers. You can check their reviews and user ratings.
Instead, you will have a list vetted and carefully selected independent regional and international suppliers from which to choose.
You can verify the legitimacy of reviews on AliExpress and other Chinese dropshipping platforms. What are you finding? Isn't it scripted for most?
Spocket and Modalyst therefore enlist sellers with genuine ratings. The products will be slightly more expensive than those on Chinese dropshipping websites. However, the quality of the products and delivery time are unaffected.
Modalyst is not a place where you can find wholesalers or suppliers. It allows you to sell products from independent manufacturers, suppliers, or new brands.
Both platforms have the same quality control. Modalyst, however, focuses on a niche-specific product catalog. Spocket, on the other hand, offers a broad range of catalogs that cover everything from A to Z.
Integration with Ecommerce Websites
Dropshipping platforms allow for easy integration with your ecommerce shop. If you have the skills or are able to hire a developer, you can build your store. The problem is that it can be time-consuming and costly if you are just starting an online store.
Spocket and Modalyst are platforms that help entrepreneurs kickstart their business ventures. It's easy to import products from suppliers directly into your store, and automate order processing. Before you make a decision, ensure that they are compatible with your website.
Spocket compatible web stores
Shopify
WooCommerce
BigCommerce
Squarespace
Wix
Ecwid
AliScraper
Modalyst compatible web stores:
Shopify
BigCommerce
Wix
AliExpress
Modalyst has yet to integrate WooCommerce, despite it being a popular ecommerce platform. Spocket is a better option considering this disadvantage. Modalyst may seem limited in terms of integration options, but that's not a problem.
Shopify users can integrate with dropshipping tools they choose, which is always a win-win situation.
Shipping: Which Is More Punctual
According to the testimonials, both platforms seem to have excellent control over order fulfillment as well as shipping times. Both platforms are dominated by sellers from the US and Europe, where international shipping is quick-paced.
These customers are more likely to be able to receive their goods within 2 to 3 business days. However, international orders may take longer. Spocket appears to have an advantage over Modalyst in this instance.
Spocket is able to reach a wider audience and work with domestic wholesalers for faster delivery. Spocket allows you to select products based upon the estimated shipping time before you import them onto your web store.
Spocket vs Modalyst – Pros and Cons
Modalyst Pros
You can get a plan for free on the platform
Zero charges for inventory
Quality products that are niche-specific
Access to specific brands and sellers
Tracking of products
Customer returns handled with excellence
Modalyst Cons
The order processing process is not completely automated
There is a 5% transaction fee on all plans
You can't access supplier networks unless you have a paid plan
Shipping and packaging options are not customizable
Sellers can earn up to 60% of the suggested price, regardless of how much they sell.
Spocket pros:
There are many options available for integrating with ecommerce shops
Greater supplier reach and availability of wholesalers
There are many product catalogues to suit different niches.
Facilitates multichannel selling via social media, blogs and YouTube
It is easy to manage and update your inventory in real time
To ensure that your product quality is maintained before you import it to your store, let's request product samples
Option to automate pricing levels using the mark-up tool
Spocket Cons
For starters, the free plan is only for 14 days.
Free users have a 25-item limit
Shipping costs can be higher in the US and EU regions than they are in the US.
Free plan customers do not receive customer support
You can't check the inventory of the seller.
It doesn't offer advanced features such as automated tax rate assessment
What are the Key Features of Modalyst
Product Catalog: We have a lot of trendy and high-quality products, including branded clothing, jewelry and casual accessories.
Accessible inventory: Select the products that best suit your business model, and then import them from the sellers to your website.
It is easy to export and organize products. Simply select the products you wish to export and arrange them in lists according their category.
Omnichannel marketing: This platform allows you reach directly to your audience via social media channels, YouTube, blogs, and other platforms.
Real-time monitoring: This provides real-time data and insight for site visitors, sales, stock status, order tracking, and everything else.
Product curation: Add, change, or update products as you wish. This will allow customers to be interested in your business while also keeping it fresh.
Easy to use: This website is quite resourceful, but navigation might require some familiarity with ecommerce sites.
What are the Key Features of Spocket?
For beginners, there is a free plan that offers 25 product storage, inventory updates in global currencies, tracking features and unlimited orders for products.
Integration with ecommerce services – Provides many integrations with platforms like Shopify, Wix and WooCommerce.
Rich product catalogue: Multiple product catalogs available with millions of dropshipping items. Also, you can order product samples.
A customized invoice that you can use to promote dropshipping products is a great way to create a brand identity.
Automated sales process: The platform automates the seller-to-merchant operations, without you having to worry about placing individual orders.
Onboarding of suppliers: Sellers are interviewed and products are tested. The operations are then monitored to ensure quality dropshipping and trust.
It is easy to use: The user interface features smooth navigation and business-ready options that allow you to quickly get up and running without any learning curve.
Modalyst Pricing
You can save up 25% with Annual Pricing on Startup and Pro plans.
The Startup plan costs $30 per year, while the Pro plan costs $67.
Spocket Pricing
You can save with yearly pricing
6 Months Discount on Pro @ $24/Month
Empire 5 Months Discount @ $57/month
Unicorn @ $79/month – 8 Months Discount
Final Words
Spocket and Modalyst both make great dropshippers. You're already able to have a Shopify, Wix or BigCommerce web store. They all integrate well with the dropshipping platforms. Most dropshipping platforms can be integrated with them. You will be limited by what you can do.
Spocket is a great option if you don't mind paying a transaction fee and you want to sell a wide range of products. Modalyst, on the other hand is an excellent choice if your goal is to sell a particular range of products or have a long-term supplier group.
However, you will need to pay a small transaction charge.
Both platforms have been equally reviewed and are highly recommended as dropshipping tools.
We recommend Spocket more, as transaction fees can become a big deal when your company grows quickly.