Reading Time:
7
minutes
Hello Friends,
You prepared cool marketing creatives, provided an appropriate idea to targeting choices, put your effort into brushing up the item page, and … absolutely nothing. Your Facebook advertisement is not authorized– a mistake by the uncaring Facebook system appears in your Ads Manager. Existed?
In order to not lose time producing advertisements that do not get accepted by FB, make things right from the beginning! Understanding how the procedure of Facebook advertisements evaluate works, you'll have the ability to conserve time and nerves for more enjoyable things– e.g. determining the earnings you got this month or hanging out with your household.
We'll reveal you how to prevent the disapproved advertisements scenario. Keep reading!
Happy to share a solution to one of the most common issues among Dropshipping promotion.  My Facebook ads keep on getting rejected, when i edit and appeal them my ad account flagged for violation Facebook policies.
Once you understand the above 2 things, the chance of getting an ad account flagged is very less. Always run ads from your Facebook business manager account rather personal account. So that you will be having multiple ad accounts as back up.
My Ads Not Approved: 
When your Ad is not approved, Facebook request you to edit ad and make appeal. NEVER EVER DO IT. 200% SURE YOUR AD ACCOUNT WILL GET FLAGGED.
Alternatively duplicate the campaign, make some possible modification and submit to review as a new ad if it is approved fine.  If it is not approved, nothing to worry. Dropshippers has 1000's of products to make money.
Try some other product, if again not approved try one more product.
After submitting 3 different products, ads keep on not approved.  In this we can understand that, the problem not in our products.
Here we need to contact Facebook to appeal our ad through this contact form.  Remember, please do not edit ad and appeal. Always use the contact form.
Facebook will reply like that you violated their Ad policy by promoting something which is not allowed on Facebook. But they never let you know what is the actual problem.
Now the problem in your Facebook Page or your Store Domain or Your Ad Account.
We need to do some testing to find where the issue is.
Facebook Page Test: 
Create new Facebook page, run ads with a new product (not from the 3 products rejected earlier) call to action with your store link. If the ads approved problem solved, continue ads in your new Facebook page. If the ads not approved, problem might be in your store domain.
Store Domain Test: 
Create a new ad campaign with the new Facebook page which you created earlier and with a new product (not from the 4 products rejected earlier) and call to action with product link from any other store domain. Submit for approval. If it is approved, problem with your store domain. We request you to transfer your domain and start ads from the scratch.
Before transferring a domain, we must check is there something problem in your ad account.
Ad Account Test: 
Make use of your Friends or Family Members Business Ad account. Create new Facebook page again.  Run ads with a new product (not from the 5 products rejected earlier) and call to action with your store URL.  Still not approved, no other way we must transfer to a new domain.
Advice to First time Facebook Ad users: 
Already i have instructed to have a look at Facebook Ad policies and Blueprint Training.
Now it is my personal advice to go through how your competitors promoted the particular product. How they used the texts, phrases, emojis and offers. So that we can prevent our ad disapproved.
It is the one still i am following it.  Example: Self Stirring Mug a famous Dropshipping product.
If i am going to sell it, i will check how others promoted this product.  Just type the product name in Facebook search and tap to videos.
Most of the resulting videos are ADS approved by Facebook already. I choose the best ad content, slightly modify to make it even better.
Like this I am reducing risk of ad rejected.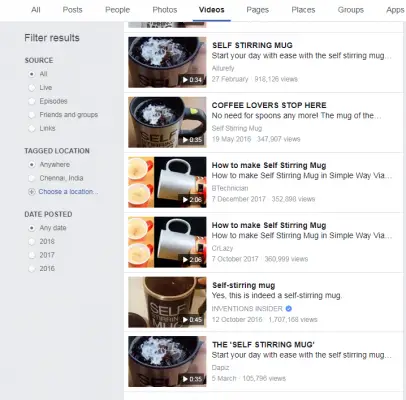 Reasons for your Facebook Ad Account disabled
Failed to read Ad Policy:
Breaching the Facebook Ad policy.
We don't have a privacy policy in our store which is required by Facebook.
We used images, videos, words, phrases and statements which is not allowed.
So it is recommended to checkout Facebook ad policy before start your first Ad. I know many people they never read ad policy and it is the most common reason why their accounts suspended and banned.
You are from a Suspicious Country: 
Another reason why your Ad account gets shutdown if you are from a country that seems suspicious to Facebook like India (my account blocked few times when i start Facebook ads), some place from Africa and some countries which raised red flags for Facebook.
If you are from rich country like USA, UK, Canada and some top EU countries, Facebook has less problem with that.
Maybe there are lot of things wrong with Facebook but their system just detects the scams and problems from certain places in the world and you actually sign up to Facebook from those places, your account gets shutdown for suspicious activity.
Name and Address Mismatch: 
Another common reason is if your payment method address doesn't match the address and data you entered in Facebook ad account or business manager.
Facebook can detect the name on your Credit/Debit card or from your bank if that doesn't match the name and address all the information you entered within Facebook in the ad account settings or business manager settings then it raises red flag to Facebook.
Make sure you are not using proxies to hide your ip's and make sure the address and name of your payment method and credit card must match address and name in your Ad account settings.
If you are Already have a Disabled Account: 
When already your ad account is disabled and trying new account with the same name, address, credit card, it will also disabled instantly.
Once one of your Ad account is blocked, technically you are not allowed to advertise in Facebook ever again.
One account banned is equals lifelong ban on Facebook advertising platform unless you reactivate your ad account from Facebook by appealing them.
Utilizing Facebook brand name in advertisements
Despite the fact that you can utilize the word "Facebook" in your imaginative, and you can even utilize the FB logo design, utilizing Facebook brand name in marketing is not the very best concept.
You require to capitalize the "Facebook" word and draw up the complete name in the advertisement copy. Make it the very same font style size and design as the text around it.
You can utilize the basic Facebook logo design, however please do not utilize their business logo design under any scenarios. Plus, do not alter any Facebook brand name possessions you're utilizing from their initial style.
And lastly, do not utilize the Facebook brand name as the main focus of your advertisement. Do not hesitate to promote a Facebook Page, group, or occasion with your advertisement, however you can't market when Facebook ends up being the most obvious and considerable part of your advertisement imaginative.
Spelling, grammar
Examine whatever ahead of time! Poor grammar falls under the "forbidden material" classification, so make certain the text of your advertisement is alright. Do not utilize any unusual signs and "imaginative" writing (changing some letters with letter-looking signs, etc).
If you're not a native speaker and question your language abilities, it's much better to use the services of English-speaking copywriters. Or a minimum of let your good friend who understands the language much better than you examine your texts. Or attempt a copyediting service like Grammarly
Individual health
Facebook does not permit "in the past and after" images. The system likewise does not enable advertisements with impractical outcomes and images that tries to "produce unfavorable self-perception."
So, if you offer fitness items, simply adhere to the pictures of healthy looking people. If you're in a severe requirement for a toned body in the visuals, prevent it being zoomed on particular parts.
If you offer supplements, Facebook might identify them to be hazardous. It remains in your benefit to prevent discussing any supplements in your ads or on the landing page.
Keep in mind: we saw some cases when FB declined advertisements for emergency treatment packages including medical products! Keep this in mind.
Tips to Avoid to Facebook Rejection in Dropshipping
1. Get Real with the Products
Among the factors Facebook prohibited particular dropshipping accounts is due to the fact that the latter is offering substandard items. When offering any item, ensure you are publishing pictures of the real item.
Sure, dropshipping ways not holding any stock. However that does not suggest you can't keep one, right?
Hence, you must ask a couple of samples of the items from your sources. By doing this, you can take much better photos of the products. Potential clients will value clear photos of what they are purchasing.
If you can not protect samples, you can acquire the items. This is a little investment that will go a long way.
If your items are totally various from the picture that you put in your advertisements, the client will begin grumbling under your post and will report you to Facebook.
Plus in the last months, Facebook is sending out studies to individuals that purchased items on Facebook and if all your studies are not positive that can have a bad influence on your account.
Mind the Quality of Your Posts
Bear in mind the quality of your posts. This indicates keeping away from specific advertisements that Facebook considers as warnings. These are advertisements that include politics, religious beliefs, and discrimination.
You must likewise keep away from publishing advertisements about tobacco, sexual material, and other delicate subjects. You need to likewise prevent publishing unfavorable baits. You require to stay truthful and transparent in your posts.
View individuals You Add and Tag
Make certain you keep watch of individuals you include and tag in your posts. Start by including individuals you understand. However ensure those people understand you also.
Arbitrarily including people– particularly complete strangers– might send out a warning to Facebook. The platform might consider your activity as spam. When you send out a lot of random buddy demands, Facebook will consider it as spamming.
Additionally, you ought to prevent tagging people straight to your images, specifically if they do not have anything to do with the latter. Rather, tag their names listed below in the remarks area, however likewise this without overemphasizing.
Lastly, you have constantly to prevent asking freely for likes, remarks or discusses in exchange for any rewards, since this is a practice that is not enabled any longer.
Prevent Spammy Content
As we pointed out above, Facebook flags spammy activities. Thus, do not be a spammer. This indicates publishing genuine material instead of spammy ones.
Instead of utilizing spammed images, be imaginative. Take images and videos utilizing a distinct method.
Additionally, prevent sending out personal messages to random people when promoting your items. Remember that every Facebook user has a typical variety of message use Facebook permits. If you go beyond that limitation, Facebook will likely tag your account as spam.
Furthermore, do not publish continually on groups specifically if your posts. Never ever promote your organization in other individuals's individual profiles. The very same thing chooses other individuals's organization profiles.
Furthermore, do not utilize videos and images that Facebook marked as spam.
Adhere To Shorter Links and mind your landing page
When selecting links and URLs for your link stay with the much shorter ones. They will provide you an expert look for your posts.
Plus likewise mind about your landing page. When you produce a post or an advertisement for Facebook, this social networks will inspect likewise the material of your landing page.
Initially, the landing page needs to be meaningful with your advertisements, 2nd, it doen't need to look spammy. Third, it is prohibited to promote the very same items on a various domain, with the very same advertisement account.